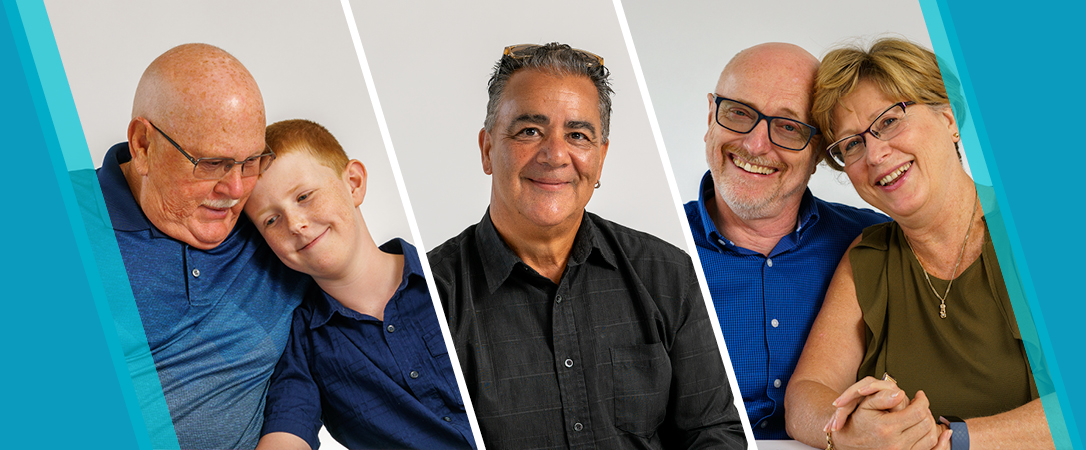 Island Prostate Centre's response to COVID-19

Our physical office is closed, but we're still here to help.
We're working around the clock to ensure our programs and services remain available to everyone who needs them.
5 ways we're here for you right now
We're pivoting our services to reach you where you are.

Imagine navigating a cancer diagnosis in the midst of a pandemic
The world may be facing a public health crisis, but our phones haven't stopped ringing. Every day, we hear from Vancouver Island men and their families who are coping with a prostate cancer diagnosis — and the additional stress of a pandemic. It's the reason we're determined to answer your calls and emails, even as we self-isolate to keep our team and community safe.
We need the support of our community more than ever
During this crisis, we're committed to being here for the 1 in 9 men diagnosed with prostate cancer and their families — but it's not easy. We are a small team doing vital work at a precarious moment. Now, we're relying on the generosity of our community to help see us through.
If your situation allows, please consider making a crucial donation to Island Prostate Centre.
Time and time again you've shown your willingness to step up and support our essential work. And we've never needed you more. Can you help?
We believe deeply in the power of our community. Thank you for supporting your Island friends and neighbours. Without you, none of what we do is possible. Best wishes to you and your family at a turbulent time,
-Leanne Kopp, Executive Director


Just been diagnosed with prostate cancer?
You've come to the right place.
We help you and your family navigate next steps.
Living with prostate cancer?
Turn to us.
We offer recovery programs, fitness classes, and peer supports to help you thrive.
All our services are free
Everyone with a diagnosis deserves access to programs and services that better their quality of life.
No referral required
Talk to us with – or without – a referral from your urologist or GP.
Help support our good work.
Every dollar of your donation stays here on Vancouver Island to provide life-changing services in our community.
Latest video
Michelle Fitzpatrick – Managing the Impact of PCa Treatments on Sexual Function and Intimacy