We are a prostate cancer information and support centre that provides free programs and supports for men and their families living on Vancouver Island and the Gulf Islands. We are dedicated to providing clear, comprehensive and unbiased information, education and counseling in-person, online, or by phone to anyone interested in learning more about prostate health. Our services and programs ensure men and their families are supported in their journey through prostate cancer. Our goal is to help you feel supported and informed about prostate health, prostate cancer diagnosis and treatment options and the latest developments in research. We do not receive any core government funding. We rely on generous contributions of time and money from individuals, businesses and foundations to help us deliver men's health services to Vancouver Island. We are grateful for the ongoing support from our strong sponsors and community partners showcased at the bottom of this web page. For more, contact Island Prostate Centre
Nurse Support Program
You likely have questions – our nurses have answers. After an initial diagnosis, you may need time to reflect and ask more questions. Here at Island Prostate Centre, we are ready when you are. Our Nurse Support Program provides in-person and over the phone private counseling support for men and their families. The Nurse Support Program is for men in the pre-treatment decision-making state, men who are in active treatment, and those men who are dealing with survivorship issues. These knowledgeable nurses offer uncomplicated, straightforward information on prostate health, prostate cancer treatment options, and what to expect. To book an appointment with one of our nurses, please contact us.
Prostate Cancer Support Group
You are not alone. Island Prostate Cancer Support Group is a place to meet and hear from men who have had, or are going through treatment themselves, as well as listen to leading doctors and speakers in the field. If you don't live in Victoria, but would still like to hear from our guest speakers we provide the video from each speaker series here. Our Prostate Cancer Support Group provides:
Information – A venue for sharing information, both in a formal format through presentations from medical professionals, and through informal discussion with other group members.
Peer Support – A caring environment where anyone touched by prostate cancer can discuss their situation and bring up concerns and issues with others who have experienced the disease. This can be tremendously reassuring for those who are newly diagnosed. Members from the group also provide hospital visitation for those receiving surgical treatment.
Meetings are held on the second Tuesday of every month at the Begbie Hall at Jubilee Hospital, 2101 Richmond Road, Victoria BC. Here is the upcoming meeting schedule.
Meeting format
6:45 – 7:00: Sign in
7:00 – 7:05: Opening remarks and information about activities and events in which Island Prostate Centre are engaged
7:05 – 7:15: Introduction of new members
7:15 – 8:15: Presentation by an expert speaker from the medical community
8:15 – 8:30: Refreshment break
8:30 – 9:00: Break out into discussion groups according to treatment type (men who have had surgery talk together, men who have had radiation talk together, etc.). There is also a discussion group for those attendees who are in a supporting role, such as spouses, partners, family members, etc. The medical presenter is encouraged to participate, though the discussion groups are primarily a space to informally share information and personal experiences.
Upcoming Speakers
September 12th, 2017 – Dr. Michael Metcalf, Urologist.  Topic:  Prostate Cancer Today: an overview of treatment strategies for prostate cancer
October 10th, 2017 – Laura Werner, Registered Physiotherapist with specific training in the management and treatment of pelvic floor, abdominal, uro-gynecological and lumbopelvic dysfunctions.  Topic:  Prostate Cancer and Pelvic Floor Rehabilitation
November 14th, 2017 – Dr. Brad Nelson, Director, Trev & Joyce Deeley Research Centre, BCCA
Support Group Contact
The Prostate Cancer Support Group is organized by Island Prostate Centre, who can be contacted by filling out this form. Additionally, Support Group presentations and the award-winning video "Prostate Cancer: Your Treatment Options" are available on DVD by contacting Island Prostate Centre or by filling out this form.
Meeting location

Parking is available at the rear for $4.50 for three hours, cash only.
Free psychological counselling
To help you cope Island Prostate Centre has secured the services of a community psychologist who provides up to three hours of free counseling for men, couples and families who are struggling with any aspect of a prostate cancer diagnosis. Please contact the counselor's office directly and indicate that you are a client of the Centre: Dr. Michael Boissevain: 250-592-6869 1834 Oak Bay Avenue, Victoria BC
The Benefits of Counseling
How common is emotional distress in cancer patients?
Between 35 – 45% of all cancer patients experience significant emotional distress, including depression.
How common is emotional distress in families and caregivers?
Studies have found that family members experience as much, if not more, distress as the patients. Family members typically experience fear of loneliness, a sense of helplessness, lifestyle disruption and uncertainty. Family members struggle with the possibility of the death of their loved one.
How counseling helps
Cope with reactions to cancer
Anger at having the disease
Fear of cancer
Changes to your body
Anxiety about treatment
Fear of cancer coming back
Anger at not getting clear answers
Loss of control
Feelings of guilt
Wondering if life will ever seem normal again
Grief and sadness
Address family issues
Relationship or family counseling
How the family can be supportive
Changes in roles within your family
Talking with your children
Confront practical issues
Reorganize finances
Plan how to raise issues with your doctor
Plan how to talk to your employer and co-workers
Solve transportation / accommodation problems
Obtain information
Explore personal issues
Assess relationships, sexuality, and career or leisure pursuits
Clarify values, goals and priorities
Make the most of your life
Androgen Deprivation Therapy (ADT) Educational Program
The Androgen Deprivation Therapy (ADT) Educational Program is a free educational program offered to any prostate cancer patient and their partner that are starting or are currently on hormone therapy. The program utilizes the recently published book "Androgen Deprivation Therapy: An Essential Guide for Prostate Cancer Patients and their Loved Ones". The book includes not just information about ADT, but specific exercises to help readers deal with both the physical and psychological side effects of this treatment.
Cancer Recovery Exercise Program
We can help you stay active. Our Exercise Program is a community-based program for prostate cancer patients and survivors designed to encompass exercise and education. It is designed to accommodate men going through treatment or who may be suffering from post-treatment side effects –arming them with the education, motivation and the tools to be physically active. The Exercise Program follows current exercise guidelines for cancer survivors and patients, but it is tailored to the needs of each participant. It combines aerobic exercises with strength, flexibility, balance and core stabilization.
Mondays and Thursdays, 9:30 am – 10:45 am (for "seasoned" participants), 10:45 am – 12:00 (for "newbies")
Location: Monday:  PISE – AET Clinic (4371 Interurban Road), Thursday at Sons of Norway House (1110 Hillside Avenue).
This is a free program, and participants can register when they arrive at the session. For more information, please contact Island Prostate Centre.
DAPPER Nutrition Progam
We welcome all prostate cancer patients to participate in a 1.5 hour interactive, Dietitian-led nutrition education program. 
This free nutrition program is for all men (newly diagnosed, in active treatment and post treatment) living with prostate cancer on Vancouver Island and their partners.  It offers the latest in evidence based information about diet and how to reduce your risk of prostate cancer recurrence, as well as tips for managing side effects of treatment.
Sessions take place on the 1st and 3rd Tuesday of each month from 10:30 am-12:00 pm. They are held at the BC Cancer Agency Vancouver Island Centre, Patient Education Room (3rd floor).
This is a free program, and participants are encouraged to pre-register for the session. For more information, please contact Island Prostate Centre.
Country Grocer Men's Health Day – annual education and testing event
In 2016, our Country Grocer Men's Health Day provided our community with 430 free PSA tests.  27 of those test results were elevated, with 5 of them at a higher risk for prostate cancer.
Through this same testing, we detected 156 men with elevated cholesterol levels.
These patients required follow up with their family physician.
Country Grocer Men's Health Day is saving lives.  Hope to see you this year – mark your calendars for Saturday, September 9th!
Country Grocer Men's Health Day is an annual education fair that highlights issues related to all aspects of men's health.  The event includes: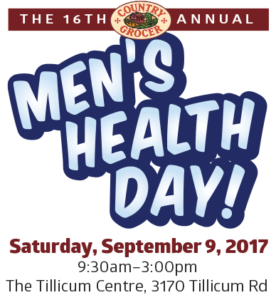 Free PSA screening for prostate cancer
Free health assessments and consultations
Educational materials
The event encourages men to implement positive lifestyle choices for themselves and to seek early and appropriate treatment for disease and injury. Contact Island Prostate Centre for more information.
Generously sponsored by
                Country Grocer / Westcoast Motorcycle Ride to Live / Used.ca /  Island Health / Beckman Coulter / NexGen                            Jim Pattison Toyota Victoria / Odlum Brown / CIBC Wood Gundy / Berwick Royal Oak and Berwick House
The Lending Library
Island Prostate Centre has a full library of books, DVDs, magazines and informational pamphlets on prostate cancer, prostate health, erectile dysfunction, incontinence, and other urological and oncological health issues. You are welcome to look at these resources at our Victoria office, or take them home for a short lending period. If you live outside of Victoria, we can provide you with links to useful online resources. For more information, please contact Island Prostate Centre.
Thank you to our generous sponsors.